How the 2021 Chevy Silverado 1500 Compares to the 2021 Ford F-150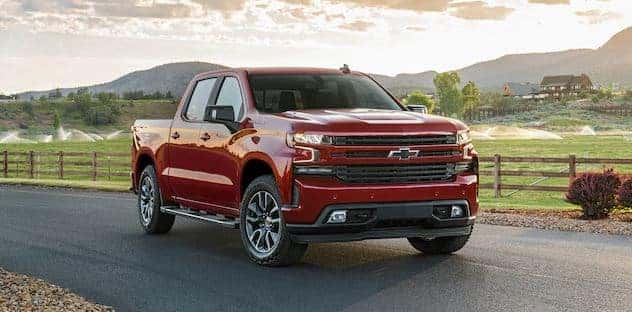 The 2021 Chevy Silverado 1500 is one of the most buzzed-about models we sell at Videon Chevrolet. This pickup is rugged, dependable, and its capabilities make it perfect for drivers who need to get tough jobs done. The team at our West Chester area Chevrolet dealership might be biased, but we think it's one of the best pickups available on the market today.
We know that many customers are still doing some comparison shopping between our model and the competition—especially the 2021 Ford F-150. Both trucks are top sellers, but we think that the Chevy model comes out on top in a head-to-head matchup.
Bed Length
When you visit us at Videon Chevrolet, the first thing we'll point out about the 2021 Chevy Silverado 1500 is its bed length. This truck's pickup bed measures 69.9 inches in length.
On the other hand, the 2021 Ford F-150 has a bed that's only 67.1 inches long. These extra inches allow folks who choose the Chevy Silverado to pack so much more cargo into the back of their truck. This means a world of difference to construction workers, farmers, and any other drivers who find themselves frequently hauling heavy loads.

Horsepower and Torque
Another thing that a Chevy dealer near King of Prussia, PA might point out to potential customers is that the Chevy Silverado offers excellent horsepower and torque. Now, the Ford F-150 does offer shoppers a few more engine configurations to choose from, but the truck's standard trim level comes with a 3.3-liter V6 engine that puts out 295 horsepower and 265 lb-ft of torque. This engine allows you to tow between 5,000 and 7,700 pounds.
Conversely, the base level of the Chevy Silverado comes with a 2.7-liter turbocharged engine, which delivers an incredible 310 horsepower and 348 lb-ft of torque. The towing capacity for this version of the Chevrolet pickup is nearly identical to the Ford F-150 (up to 7,000 pounds).
Visit our dealership to learn more about the 2021 Chevy Silverado 1500—or any of our other Chevrolet vehicles for sale. Our Chevy dealers would be happy to answer any lingering questions you have about how this truck compares to the competition.