Videon Chevrolet In Our Community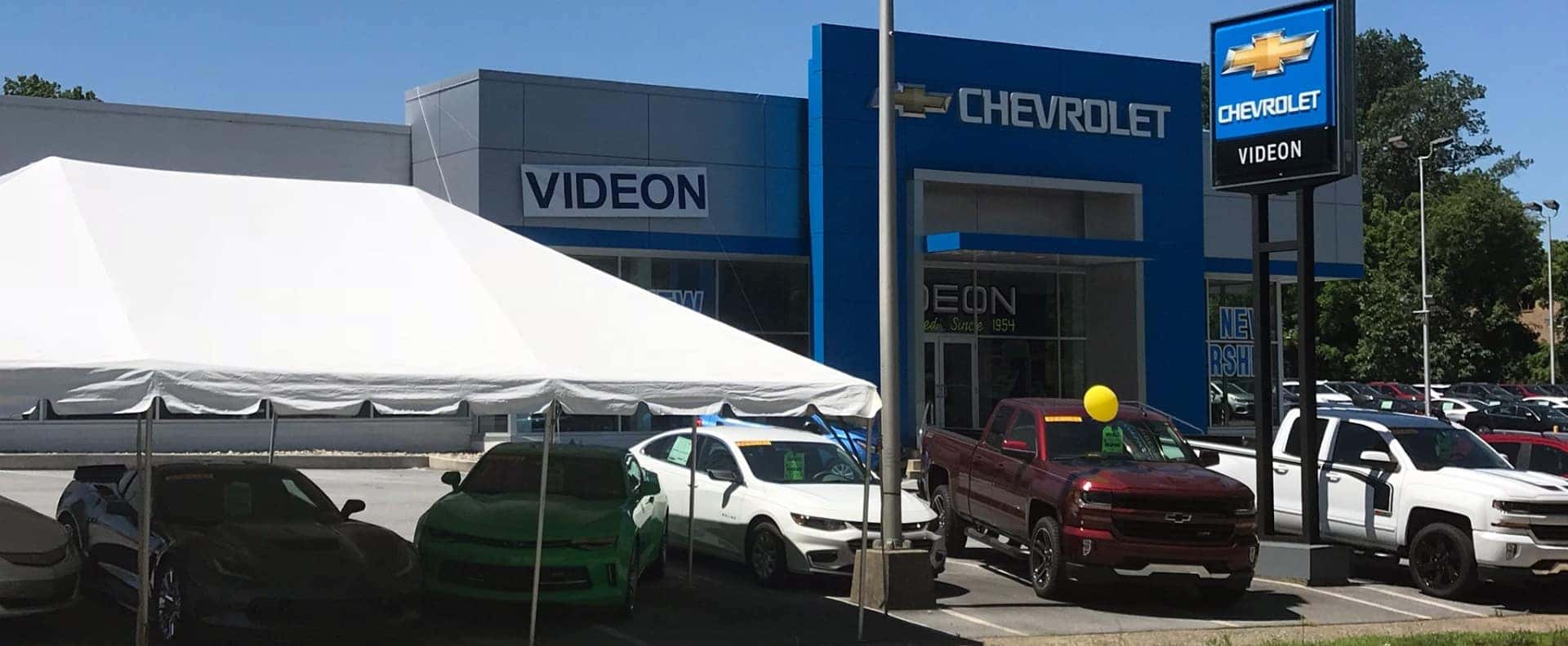 In 1954, Frank C Videon Sr. opened a small car dealership with one goal in mind—to provide local car shoppers with reliable vehicles for affordable prices. Videon Chevrolet of Phoenixville is proud to carry on that legacy by serving our Chester County community one happy customer at a time. Learn more about our involvement in events around town and stop by our dealership to join our ever-expanding family!
---
Barkley Home & School 
Steve Videon presents a donation of $1,000 to Barkley Elementary School to be used for fun, educational activities for the local schoolchildren.
---
6th Annual Delaware County Police K-9 Competition 
Videon Chevy was happy to support our furry friends and local law enforcement as a sponsor of the 6th Annual Delaware County Police K-9 competition on October 23rd. While the competition was stiff, there are no losers on a day filled with dogs. Check out those pups in action!
---
Seat Check Saturday Sponsored by Safe Kids Chester County 
We were proud to host Seat Check Saturday on September 25th in partnership with Safe Kids Chester County! We had certified child passenger safety technicians on site to help educate families about choosing the right car seat for their children, the importance of registering car seats with the manufacturer, and what to expect if the car seat is subject to a safety recall. Safety always comes first at Videon Chevrolet!
---
Phoenixville Babe Ruth League 
Videon Chevrolet of Phoenixville is partnering with the Phoenixville Babe Ruth League! Videon Chevrolet of Phoenixville has joined forces with the national Chevrolet Youth Baseball & Softball program to provide new equipment.
"Playing baseball and softball helps kids develop skills like leadership, cooperation, and sportsmanship while bringing families and communities together to show their support. Videon Chevrolet of Phoenixville and Chevrolet Youth Baseball & Softball are proud to participate in a sport that brings so many smiles to kids and families in Phoenixville." said Steve Videon, for Videon Chevrolet of Phoenixville. "Chevrolet believes in the power of play as a way for young people to build the skills needed to be successful in the future and supports the spirit of teamwork that baseball and softball instills in its players."
2021 marks the sixteenth year of Chevrolet's Youth Baseball & Softball program and has benefitted over 8 million players since it launched. In 2020, more than 1,300 Chevrolet dealers participated across the country.
Videon Chevrolet of Phoenixville will present Phoenixville Babe Ruth League an equipment kit that includes useful items such as equipment bags, first aid kits, batting tees, and ball buckets.
In addition, Videon Chevrolet of Phoenixville will present a check representing a one-time monetary contribution to Phoenixville Babe Ruth League.
"Chevrolet vehicles are designed and built with busy families in mind, featuring a comprehensive suite of available safety features; technologies that make the journey more comfortable and engaging for the entire family; and the space and flexibility needed to haul people and cargo. We would encourage everyone to come take a look at what Chevrolet has to offer," said Steve Videon.
---
Auto Dealers CARing for Kids Foundation – Driving Away the Cold

Did you know that one in six children in the Philadelphia area lives in poverty? Did you know that the federal definition of poverty is a family of four living on an annual income below $26,200? In Pennsylvania, approximately 500,000 children live in poverty, without daily essentials like a warm winter coat. When we learned of this, we knew we could work together to make a difference.
The Auto Dealers CARING for Kids Foundation's "Driving Away the Cold" New Coat Program began in 2008 with one simple mission: to provide new winter coats to impoverished children in the five-county region of Philadelphia. They challenged local new car dealerships to pledge a new winter coat every time a car was sold in September. Videon Auto Group has participated in the program since the very start!
New Coat Distribution
Driving Away the Cold new coat distribution events typically take place in October. We donate new coats to Garrett's Way Daycare in Newtown Square, Amnion Pregnancy Center in Drexel Hill, and two Gaudenzia House locations in Philadelphia. Sorry, we cannot give coats directly to individuals or families.
Why New Is Important
Besides relieving a small financial burden for parents or caregivers, the gift of a NEW coat warms the body and soul of a child in need. It can supercharge the recipient's self-esteem and helps him or her to arrive at school warm, ready to learn. It reminds that child that he or she is important.
If you would like to help us give more coats and more smiles to local children in need, please click below!
Learn More
---
Haverford Township K9 Unit / Newtown Township K9 Unit / Delaware County K9 Competition
Police K9 Units serve as a supplement to patrol and investigative efforts. Specially trained dogs and handlers work together to prevent crime and apprehend criminals. The dogs' enhanced sense of sight, smell, and hearing make them extraordinary at assisting their handlers in seeking and finding people, drugs and other items. They are also trained for crowd control in an effort to protect the public and the police.
Since its inception in 2015, Videon has sponsored the Delaware County K9 Competition. We have also donated to both Haverford and Newtown Townships towards the purchase/training of new K9s for their departments.
Learn More
---
U.S. Marine Corps Reserve Toys For Tots Program
We are an annual drop off hub for Toys for Tots. Each October, November, and December, we collect new, unwrapped toys for the U.S. Marine Corps Toys for Tots Program to distribute to less fortunate children in the community as Christmas gifts. The primary goal of Toys for Tots, through a new toy at Christmas, is to deliver a message of hope to less fortunate youngsters that will assist them in becoming responsible, productive, patriotic citizens.
---
92.5 WXTU Toy Truck Parade
Not only do we deck the halls, we decorate a truck too! Lit up like a Christmas tree, we bring a new Silverado full of new, unwrapped toys and participate in the 92.5 WXTU Toy Truck Parade, bringing toys to children in need at Christmas.
---
93.3 WMMR Preston & Steve's Campout for Hunger
Preston and Steve Camp out in a parking lot, and we at Videon take our Toy Truck Parade decked out truck and load it up with non-perishable food items to donate to the Campout, benefiting Philabundance and helping to feed hungry individuals and families all across the Delaware Valley. In 2020, Campout for Hunger collected and distributed over 2.5 million pounds of food!
---
Phoenixville Jaycees
Videon supports the Phoenixville Jaycees (United States Junior Chamber chapter) in their mission to make positive changes in the local community.
Learn More
---
Phoenixville Dogwood Festival
A proud sponsor of the Phoenixville Dogwood Festival, hosted by the Phoenixville Jaycees, the annual Dogwood Festival includes a fair, parade, and many other great events that bring the Phoenixville community together for quality family-friendly fun.
Learn More
---
Phoenixville Phantoms Cheerleaders 
Videon Chevrolet hosted the Phantoms Football Cheerleaders for a donation-based car wash to raise money for the cheer squad.
---
French Creek Iron Tour 
The French Creek Iron Tour supports the French & Pickering Creeks Conservation Trust, which since 1967 has protected more than 13,000 acres of agricultural, natural and park lands., along with creating trails and greenways along the two creeks. Historically important lands are included in those 13,000 acres. The Revolutionary War might have had a different outcome if it were not for the many iron furnaces in northern Chester County at that time. French & Pickering has permanently protected the Warwick Furnace that supplied cannonballs to General Washington's army. It is this significant history that gives the French Creek Iron Tour its name. It is not an Ironman event but rather a tribute to the area's impact on the history of our country. The routes of the Iron Tour pass the Warwick Furnace, Hopewell Furnace and near the Hibernia Iron Works. Videon Chevrolet supplies the French Creek Iron Tour with a Support Truck for the event day.
---
PASC Major League Sponsor
Videon Chevrolet is proud to sponsor the Phoenixville area soccer club. The PASC is committed to building community by providing a healthy, enjoyable, and competitive soccer experience.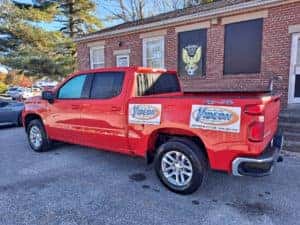 Learn More
---
Phoenixville Fire Department Golf Outing
Videon Chevrolet supports the Phoenixville Fire Department through sponsorship, raffle donation, and participation in their annual golf outing. Phoenixville Fire Department provides fire and rescue services to the Phoenixville Borough and surrounding communities.
Learn More
We're Proud to Sponsor Local Events in Phoenixville, PA
Providing world-class customer service is only the start at Videon Chevrolet. We also like to stay involved in the community by hosting and sponsoring a variety of events. Whether educating parents about choosing the proper car seat for their children or donating toy trucks to the local Boys and Girls club around Christmas time, we're always happy to give back to the fine people who have given us their trust and business over the years. Be sure to follow us on social media to stay up to date on upcoming events!
Follow Us
Why Shop at Videon Chevrolet?
Videon Chevrolet offers quality and convenience through all aspects of the car-shopping process, so our customers can focus on the fun parts of finding their dream vehicle. What does that entail? Our free service loaner program means you'll have a spare set of wheels at the ready whenever your ride's in the shop for the lifetime of your vehicle.
Have your enjoyed your experience with us? You can receive $100 for each friend or family member you refer to us that purchases a vehicle from Videon Chevrolet. We even offer a $500 guarantee that we'll meet or beat any competitor's deal. There's a laundry list of reasons to shop at our dealership, but you'll know as soon as you step through our doors that you've made a wise choice.
Protect Your Investment and Your Vehicle
Every dollar you send Videon Chevrolet's way is money well spent. We ensure that by offering a bevvy of warranties and vehicle protection plans. Most of our pre-owned vehicles come with a 7-year/125,000-mile limited powertrain warranty to keep you cruising smoothly for the long road ahead. We also offer service benefits like pre-paid maintenance and tire and wheel protection to help you take care of that car you got such a great deal on. From your first test drive to your last oil change, Videon Chevrolet is here to help you get around this wonderful town.
Learn More
Contact Videon Chevrolet of Phoenixville, PA
Curious about a new Chevy Silverado 1500? Have questions about financing or valuing your trade-in vehicle? Whatever the case may be, Videon Chevrolet of Phoenixville can provide the answers you seek. Contact us online, over the phone, or visit our dealership to take your next step toward the gas pedal. We look forward to hearing from you soon!
Contact Us